大家好,我是PYP5B班的姜易轩,KEVIN。
Hello everyone, I am KEVIN from PYP5B class.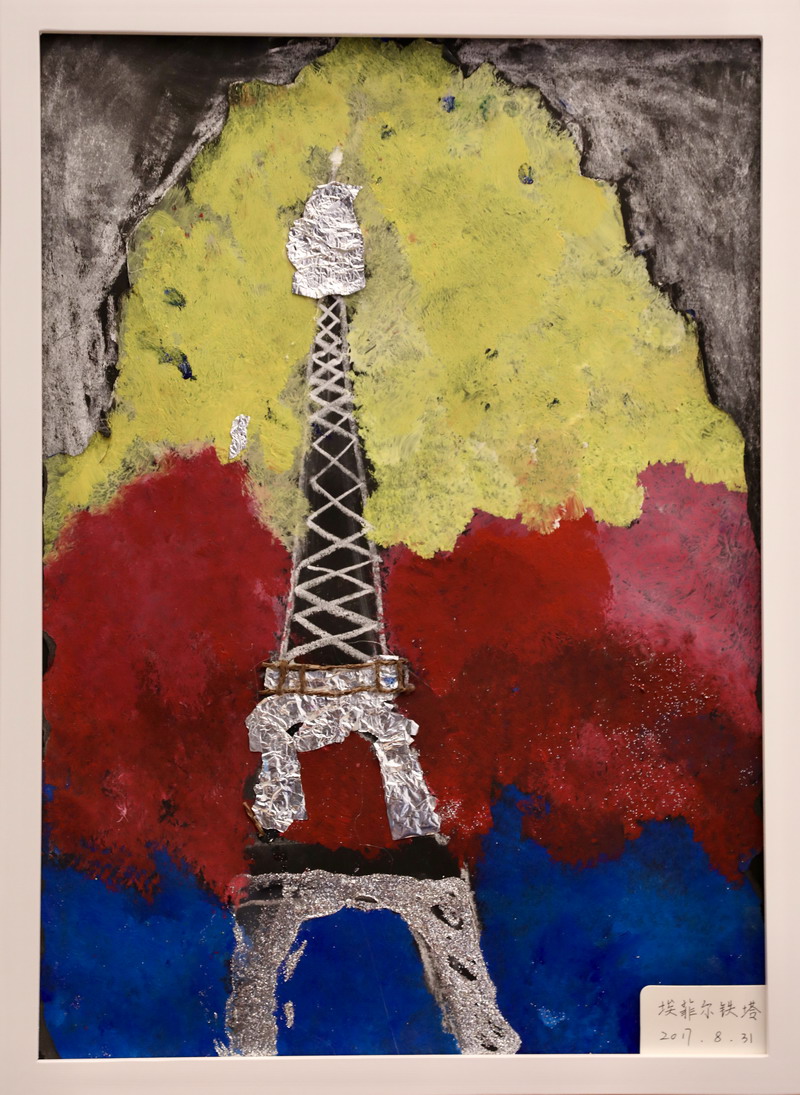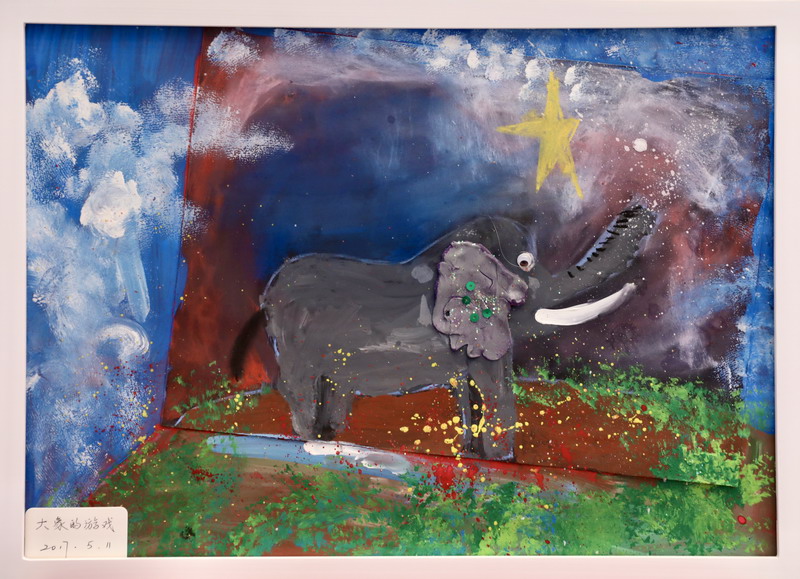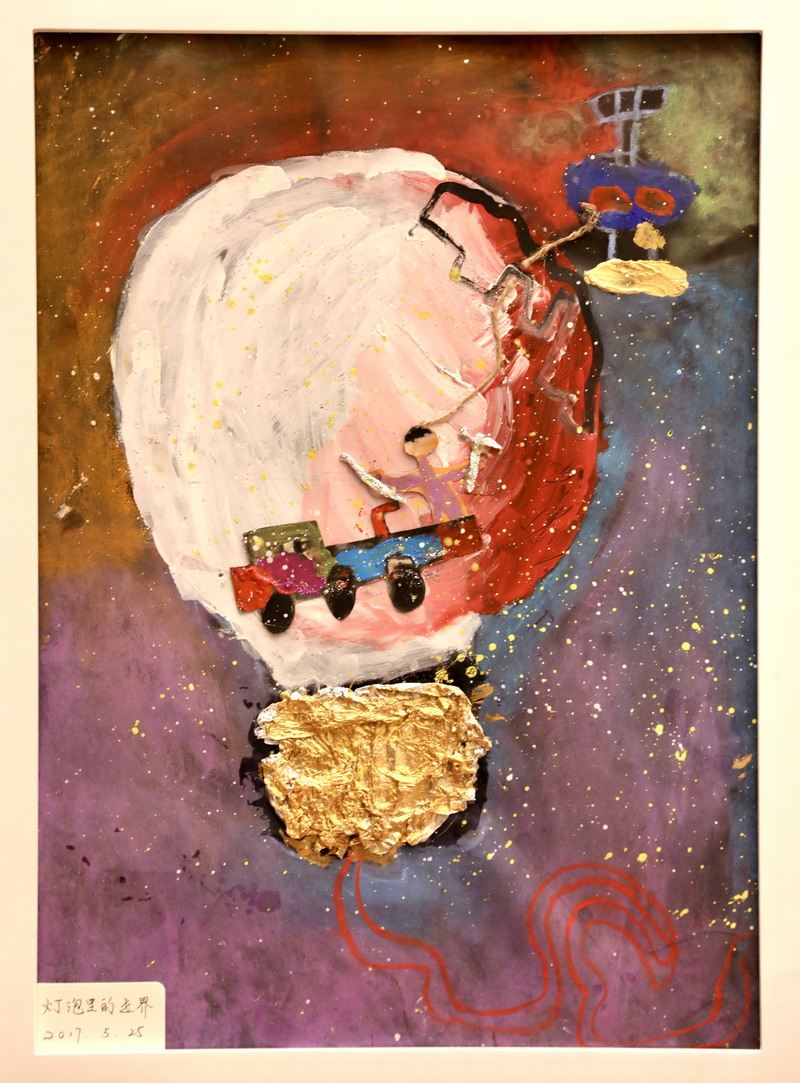 刚刚过去的这两周,对我来说意义非凡。因为我的个人创意画展,在学校的秀空间举办。
The past two weeks have been very meaningful to me. Because of my personal creative exhibition is held in the school's show space.
说起画画,最早要从幼儿园托班的时候说起。有一次我把在幼儿园填色的一幅画带回了家,那是一束气球的图案,小朋友根据自己的喜好涂色。妈妈看到后大加赞赏:"宝宝你涂得真好呀,颜色都没有涂到线框外面,配色真好看,妈妈好喜欢。"然后,妈妈就把这幅画贴在了冰箱门上。妈妈的举动让我开心极了,这大大鼓舞了我画画的热情。
Speaking of painting, we should start with the kindergarten nursery school. Once I brought home a painting that I colored in the kindergarten. It was a pattern of a bunch of balloons. The children colored according to their own preferences. After seeing it, my mother praised it: "You painted so well baby, the colors are not painted outside the wire frame. The color scheme is really beautiful, and mom loves it." Then, my mother stuck the painting on the refrigerator door. My mother's actions made me very happy, which greatly encouraged my enthusiasm for painting.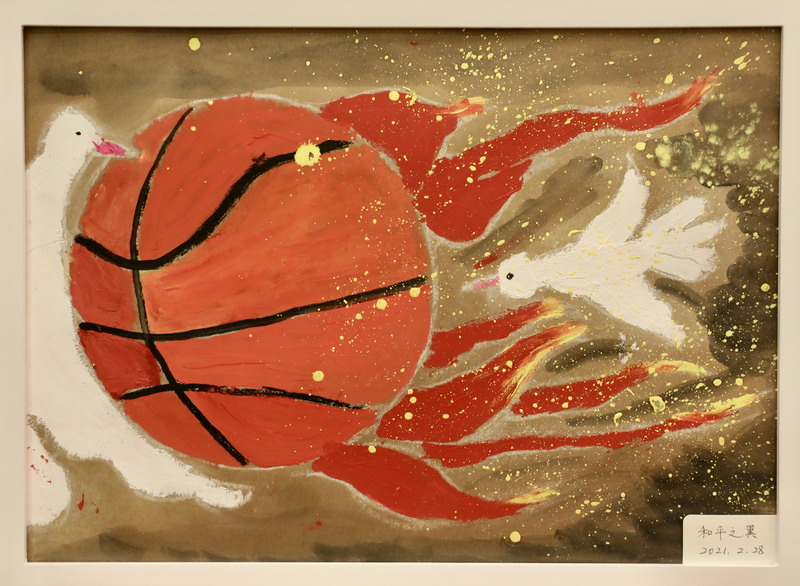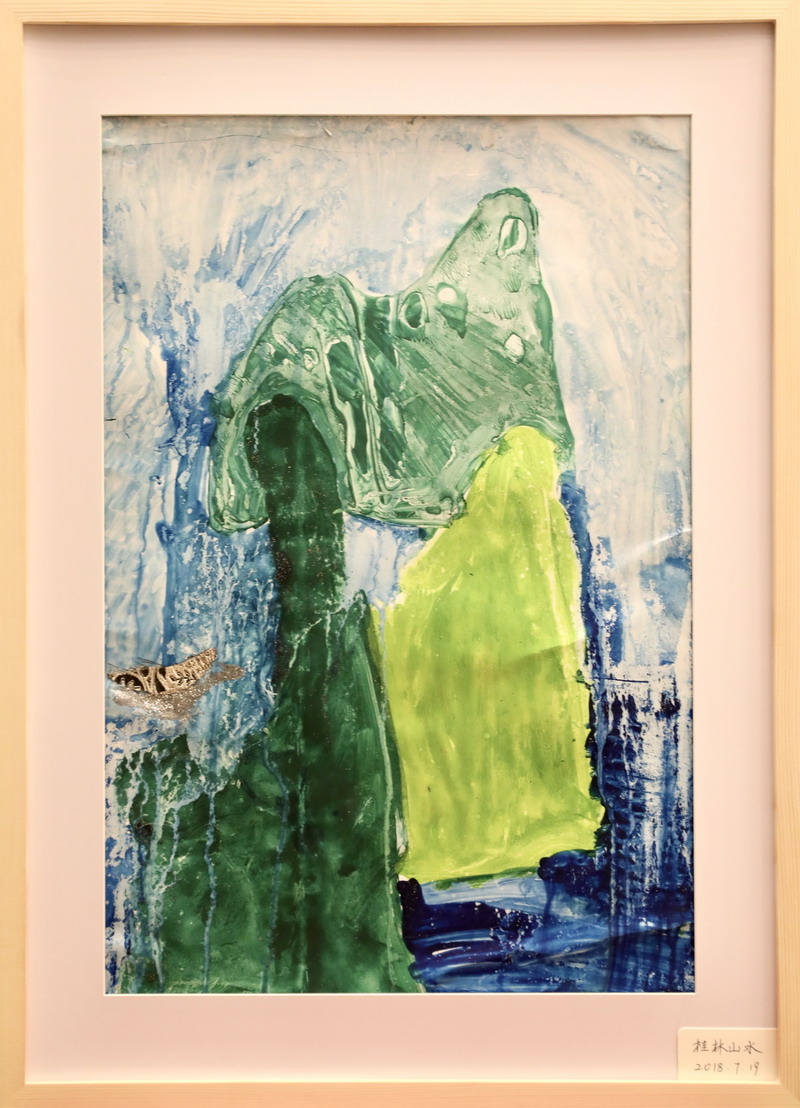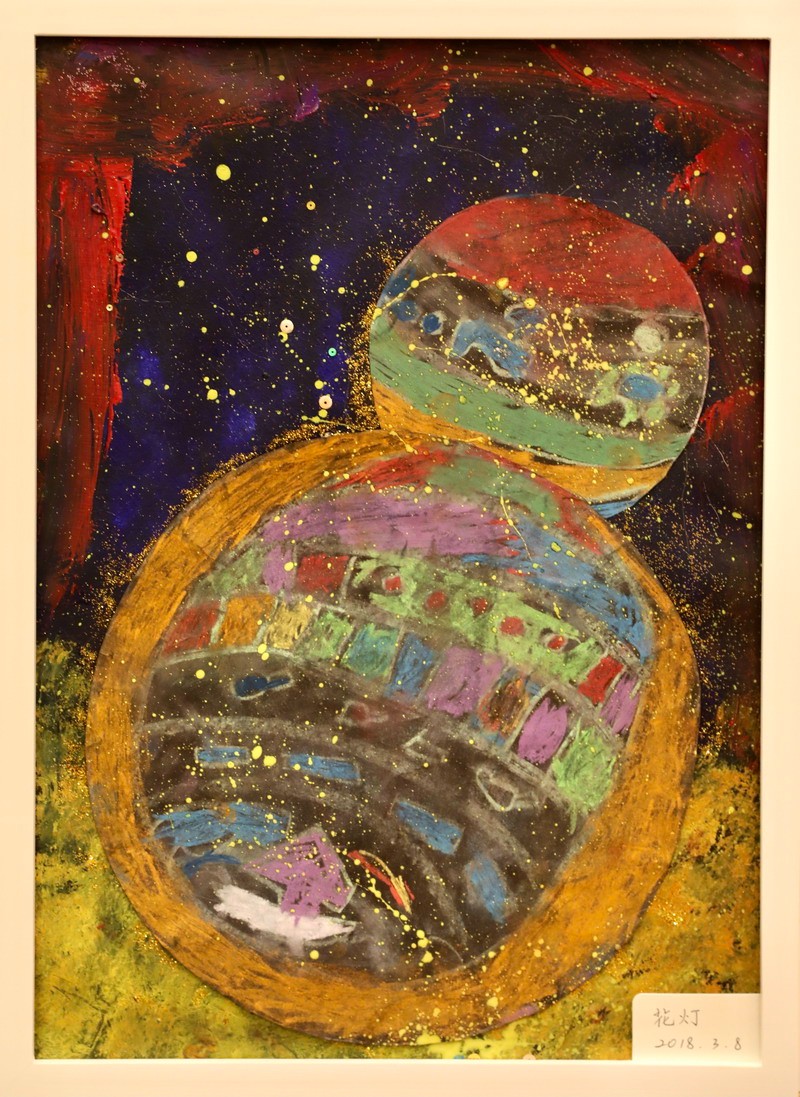 同时,这对我的家人来说,也是一次小小的"劫难"。桌子上、床单上、墙壁上,车子上…….都留下我"创作"的痕迹。最过分的一次,我打开哥哥的作业本,在他完成的作业上用彩笔画了整整两页,画完又合上本子放回去。可想而知,哥哥第二天交作业时遭遇了什么。虽然我闯了这么多祸,但家人都没有过多地责怪我,而是去给我报了画画的兴趣班。从此,我算是跟绘画正式结缘。
At the same time, this is also a small "catastrophe" for my family. On the table, on the sheets, on the walls, on the car... all traces of my "creation" are left. For the most extreme time, I opened my brother's notebook and drew two full pages with colored pens on his completed homework, then closed the notebook and put it back. who can imagine what happened to my brother when he handed in his homework the next day. Although I have caused so many misfortunes, my family did not blame me too much, but went to enroll me in an interest class in painting. From then on, I was formally associated with painting.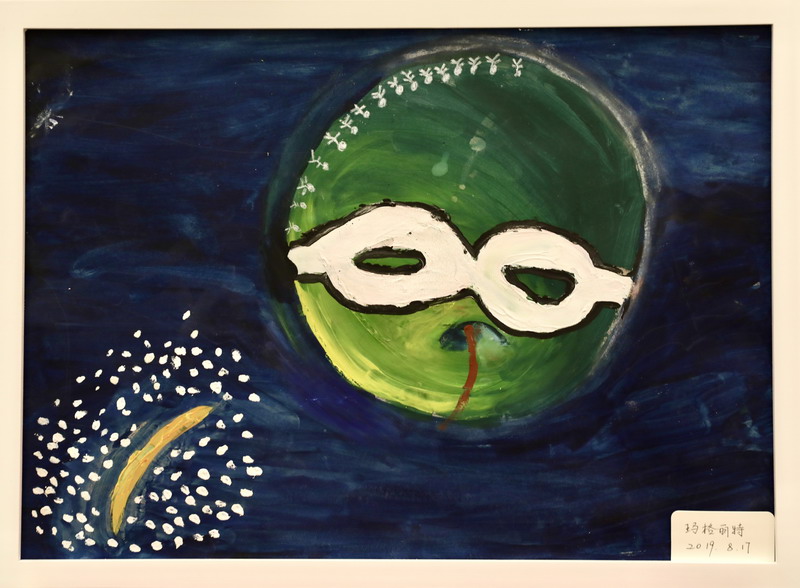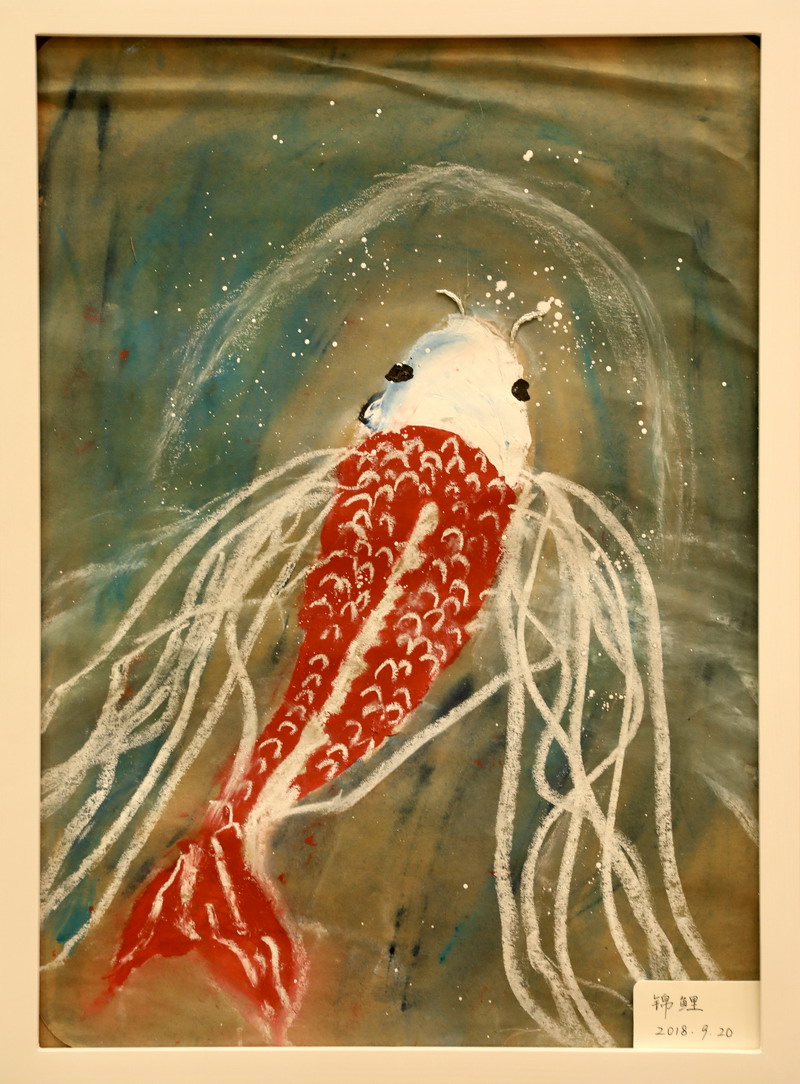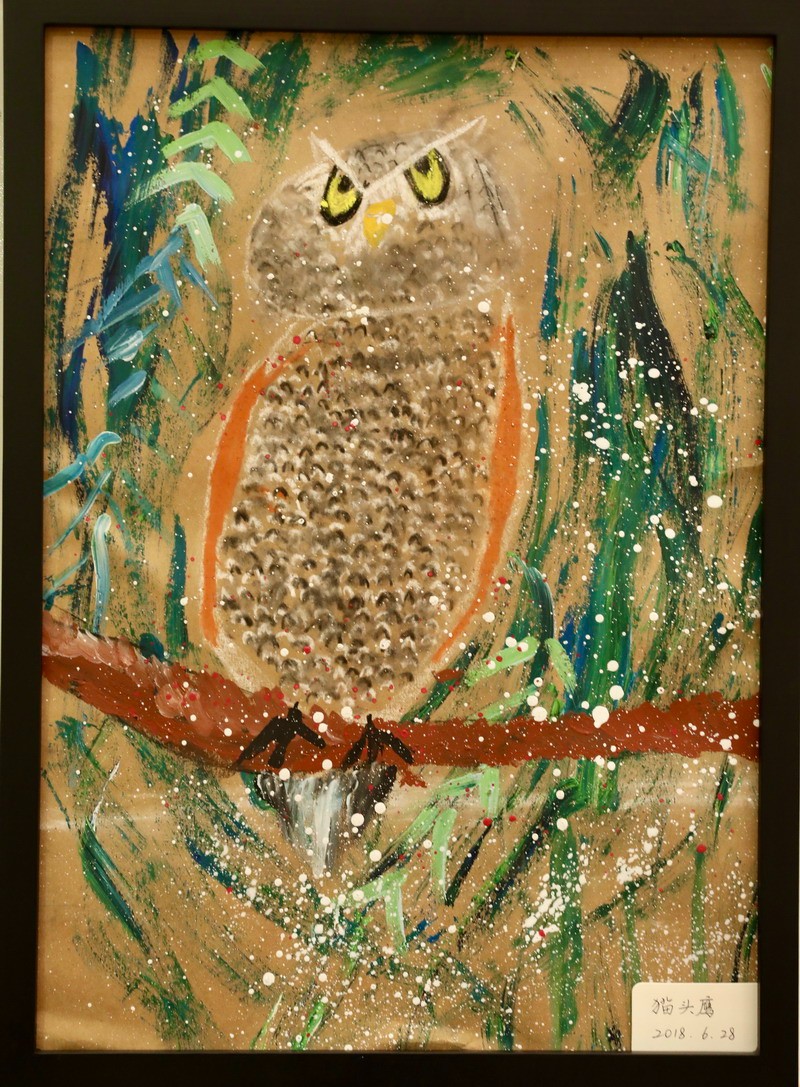 经过几年的时间,我的画积累了不少,但大多躺在储藏间的搁板上睡大觉。得知学校的秀空间可以办画展,我的心情既兴奋又有点忐忑。兴奋的是可以展示自己的画,忐忑的是自己画得不够好会被耻笑。妈妈说:"每个人的作品都不是完美的,大胆展示出来,让老师和同学们来观赏交流,你才会有更大的进步。"于是我报了名,画展如期举办了。
After a few years, I have accumulated a lot of paintings, but most of them lie on the shelves in the storage room to sleep. Knowing that the school's show space can hold art exhibitions, I was both excited and a little nervous. What is excited is that I can show my paintings, but what I am worried about is that I will be ridiculed if I don't paint well enough. My mother said: "Everyone's work is not perfect. Show it boldly and let the teachers and classmates come to watch and discusses, and you will make improvement." So I signed up and the exhibition was held as scheduled.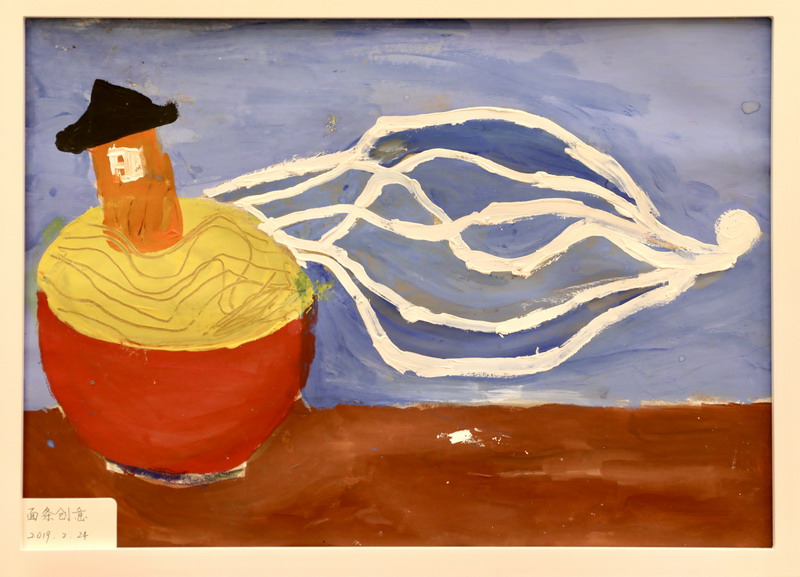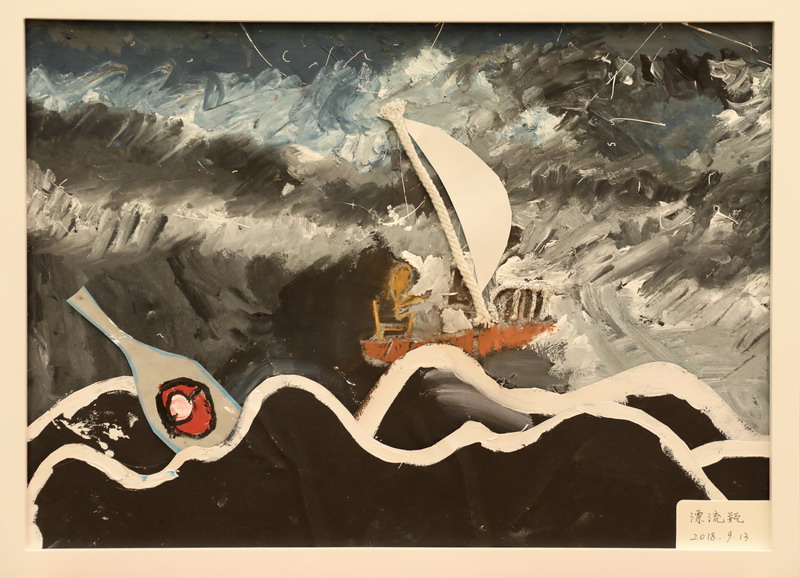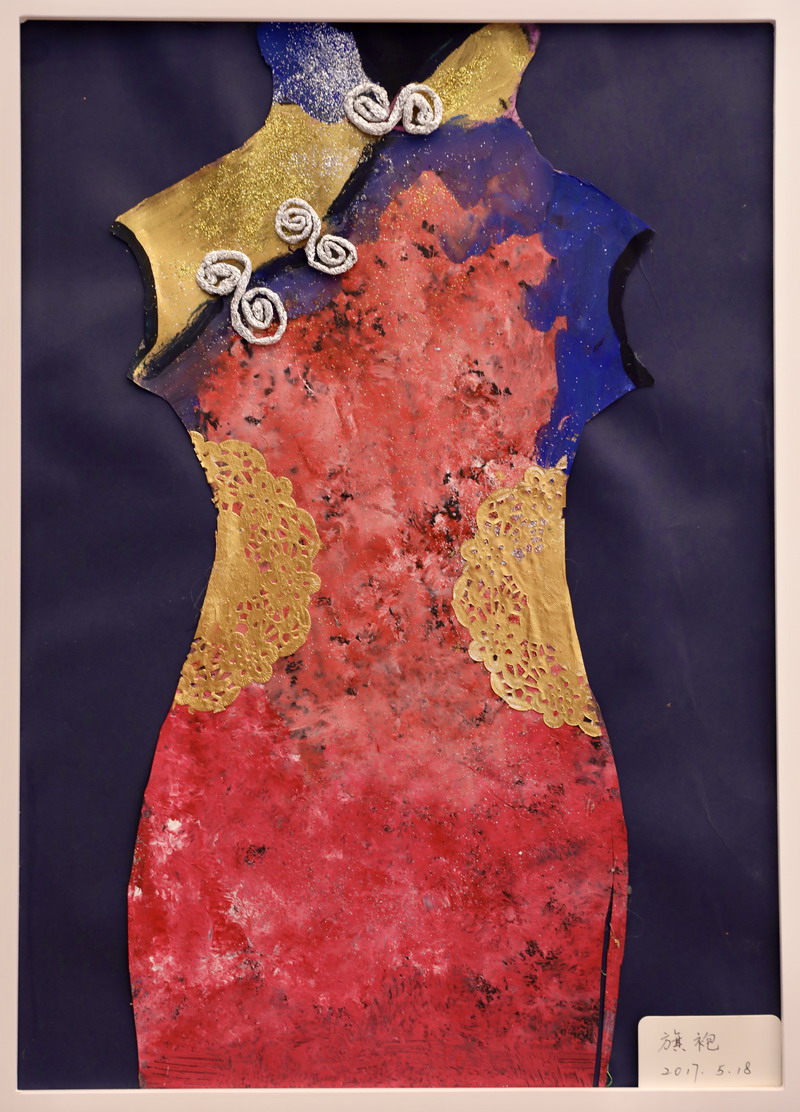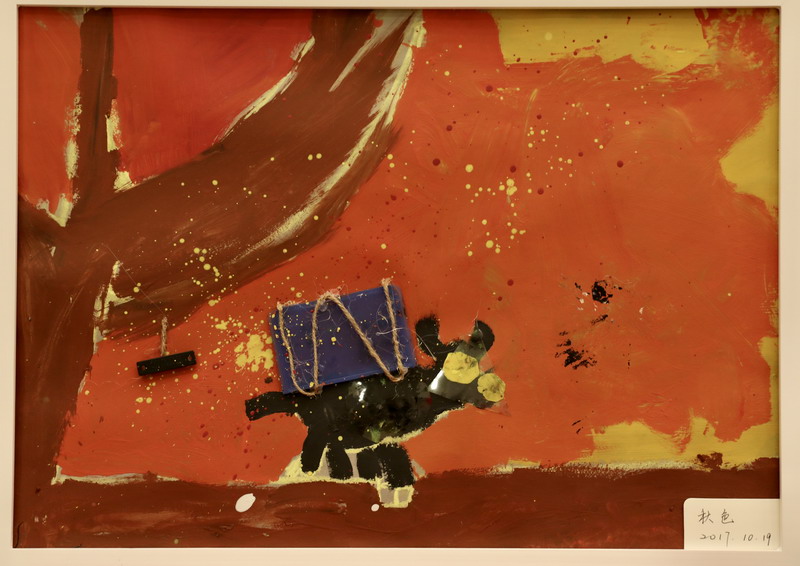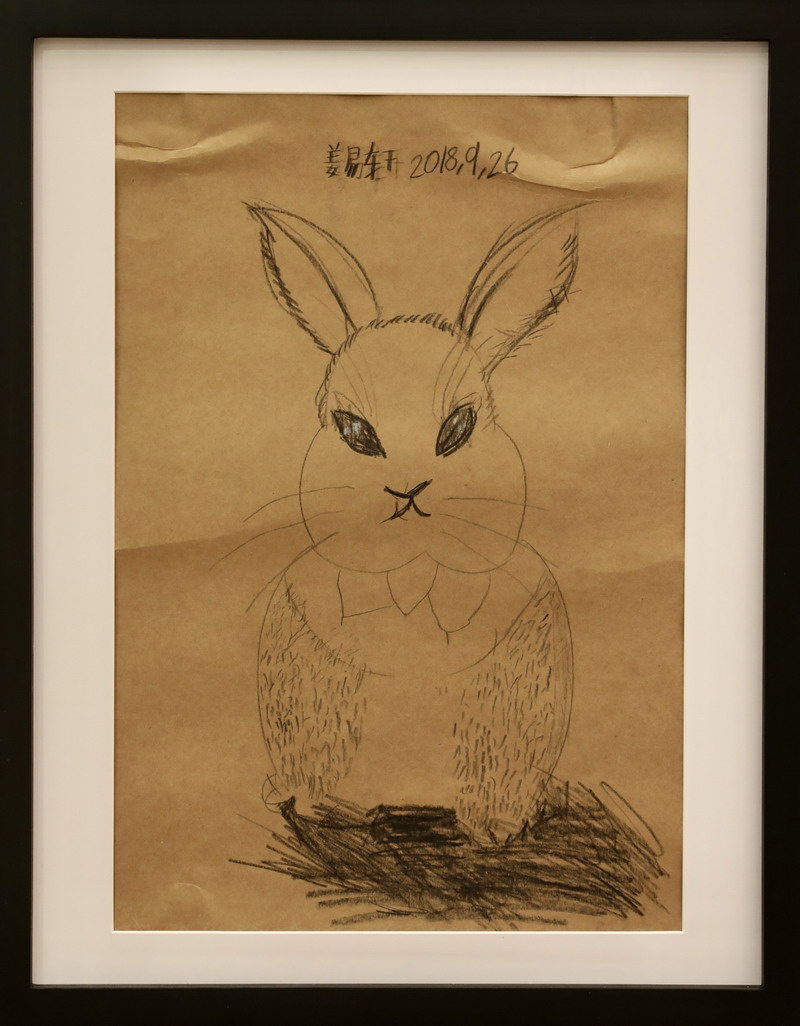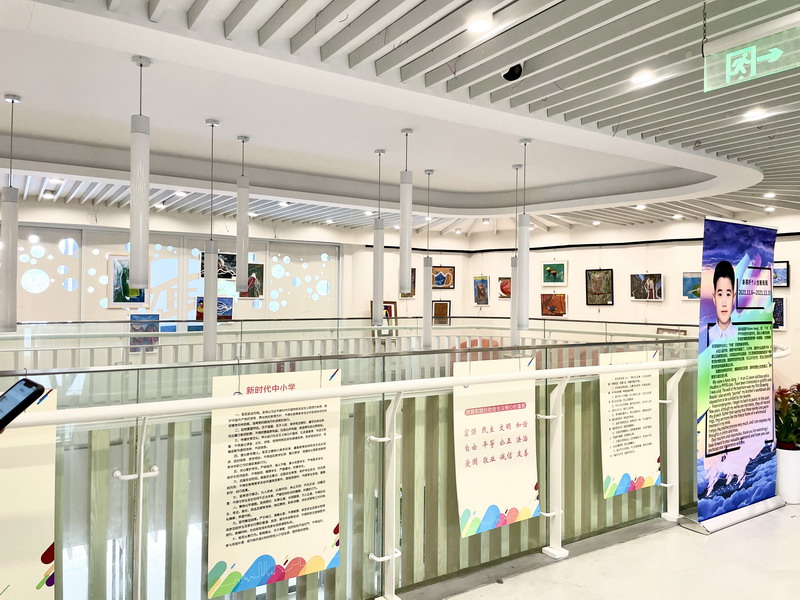 还记得上周一早上,我一到学校同学们就很高兴地对我说:"Kevin,我们看到你的画展了,真棒!" 我悬着的心终于放下了,同学们并没有嘲笑我的不足,而是由衷的替我开心。这给了我很大的鼓励!
I still remember that when I arrived at school last Monday morning, my classmates happily said to me: "Kevin, we saw your exhibition, it's awesome!" My hanging heart was finally let go, and the classmates did not laugh about my shortcomings, but sincerely happy for me. This gave me a lot of encouragement!
升旗仪式后,同学们还拉着我一起到秀空间,一边看一边指着一幅幅画问我一些细节,我便开心地滔滔不绝地讲了起来。
After the flag-raising ceremony, the classmates took me to the show space together, and while looking at them, they pointed to some paintings and asked me some details, and I talked happily.
这幅画是《壮阔山河》。我们的祖国有960万平方公里的辽阔土地,资源丰富、山河秀丽。我画了蓝天白云,画了高山流水,画了花草树木,用了亮丽温暖的颜色。这就是我心里的壮阔山河。
This painting is "Magnificent Mountains and Rivers". Our motherland has a vast land of 9.6 million square kilometers, rich in resources and beautiful mountains and rivers. In the painting, I painted the blue sky and white clouds, I painted a mountain stream, I painted flowers and trees, and used bright and warm colors. This is the magnificent mountains and rivers in my heart.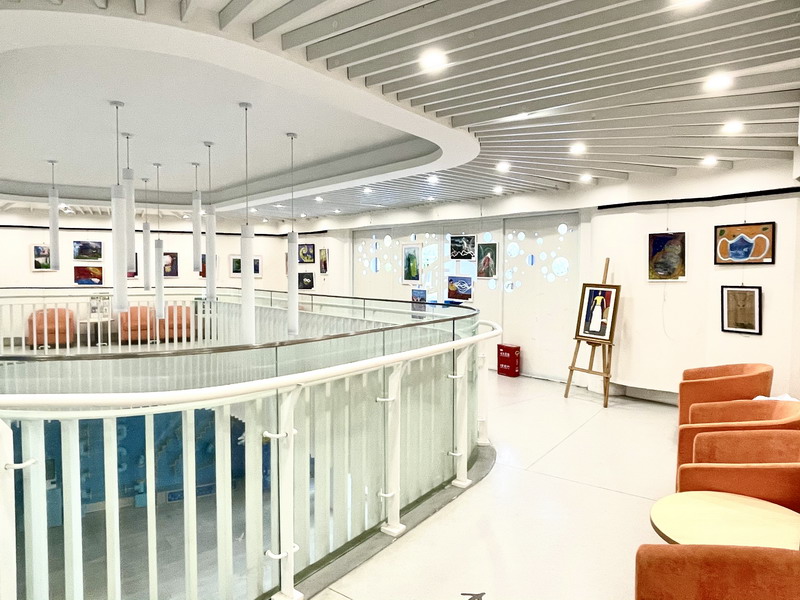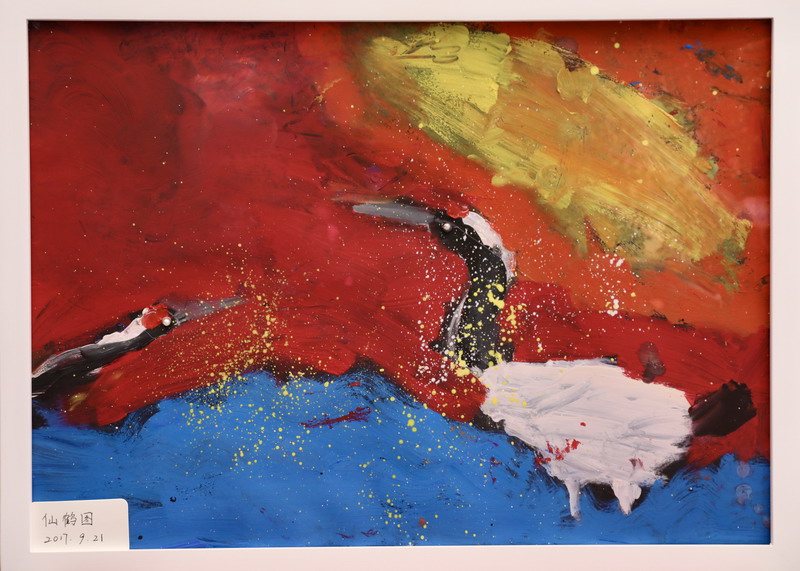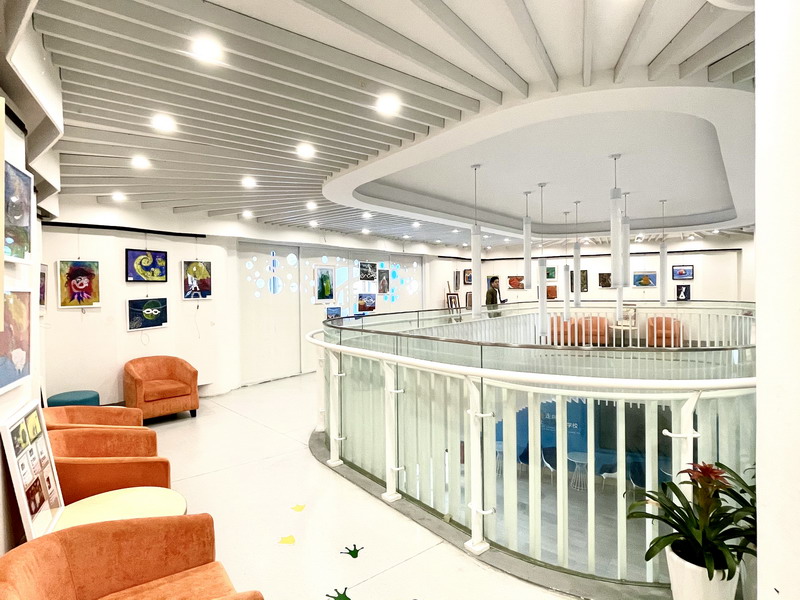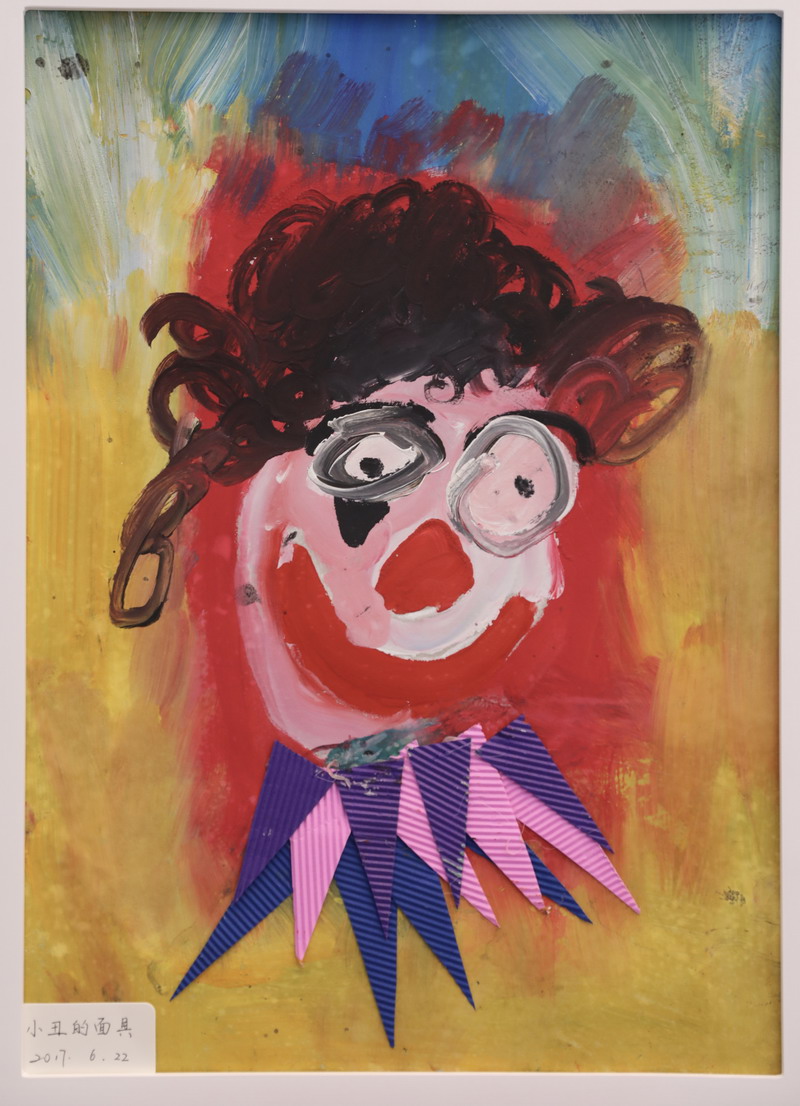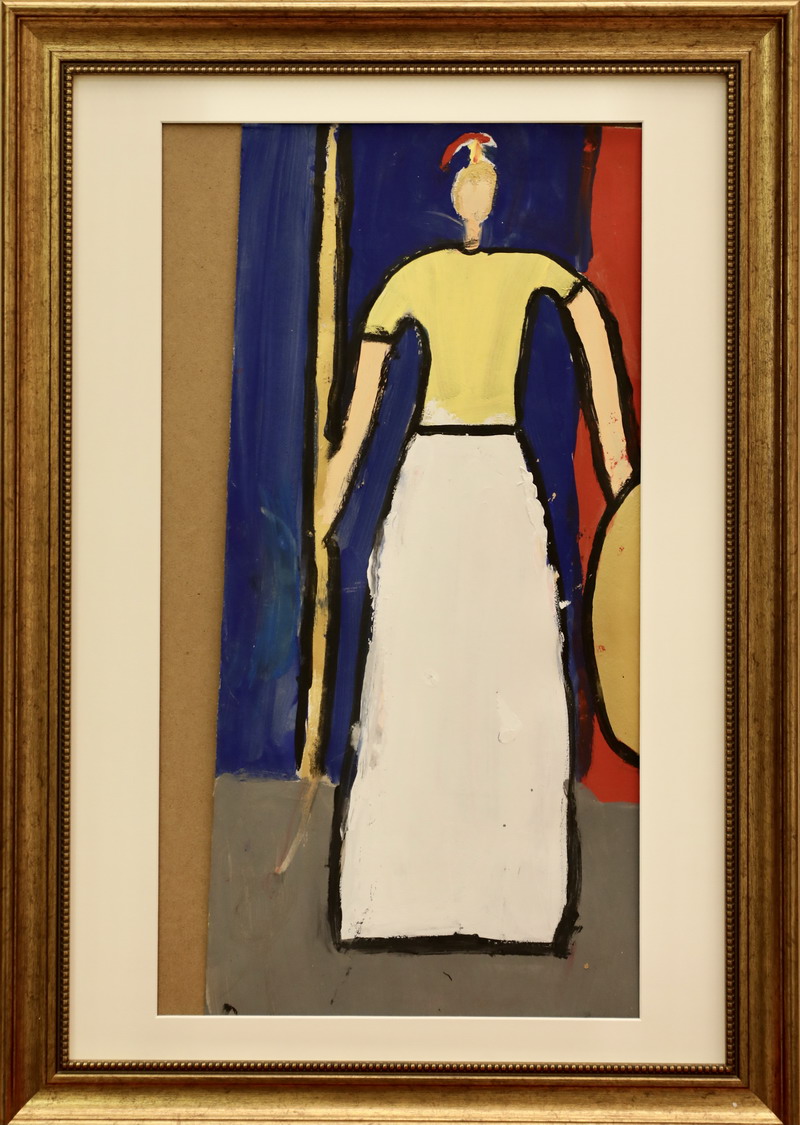 这幅画是《旗袍》。我用剪纸和颜料相结合,完成了这副作品。盘扣是锡纸做的,腰部的半圆设计是厨房的隔油纸撕成两半。妈妈说这件很漂亮,要找裁缝照样子做一件。

This painting is "Cheongsam". I used a combination of paper-cutting and paint to complete this work. The buckle is made of tin foil, and the semicircular design at the waist is the kitchen grease proof paper torn in half. My mother said that this one is very beautiful, and she need a tailor to make a same one.
这幅画是《灯泡里的世界》。我把灯泡想象成小人国的世界,并画成热气球的样子,让他们在这里展开了一场精彩的空中对决。
This painting is "The World in the Light Bulb". I imagined the light bulb as the world of Lilliputian, and drew it like a hot air balloon, letting them have a wonderful aerial duel here.
这幅画是《埃菲尔铁塔》。这是我的梦想之地,所以我用了有未来感的银灰色,而大面积的红黄蓝,表达了我热切地期盼之情。总有一天,我要亲眼去看看它。
This painting is "Eiffel Tower". This is the place in my dreams, so I used futuristic silver-gray, and large areas of red, yellow and blue, expressing my eager anticipation. One day, I will see it with my own eyes.
《大象的游戏》、《仙鹤图》、《小丑的面具》、《星空的遐想》。这几幅都创作于2017年,从饱满的色彩就能感受到我童年的欢乐,一切都是浓墨重彩的。
"Elephant Game", "Crane", "Clown's Mask", "Starry Night". These paintings were created in 2017, and I can feel the joy of my childhood from the colors, everything is full of color.
《猫头鹰》、《锦鲤》、《漂流瓶》、《兔子》。这几幅画创作于2018年,我掌握了新技法。前三幅先用粉笔勾描,再慢慢着色。后一副是素描作品。
"Owl", "Koi", "Drifting Bottle", "Rabbit". These paintings were created in 2018, and I have mastered new techniques. The first three paintings are drawn with chalk first, and then slowly colored. The last one is a sketch work.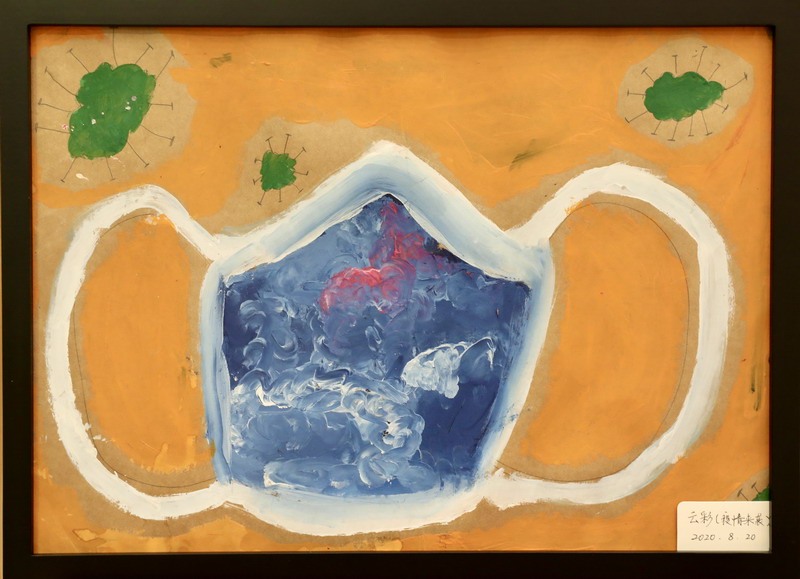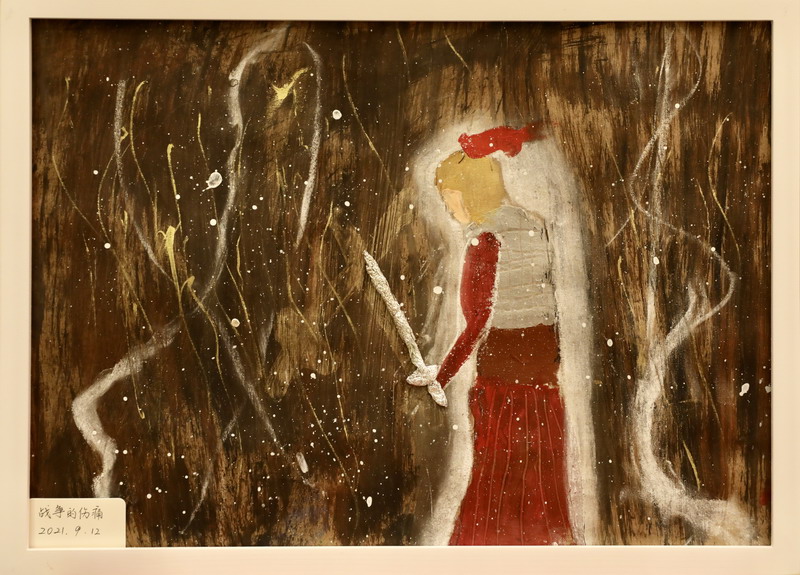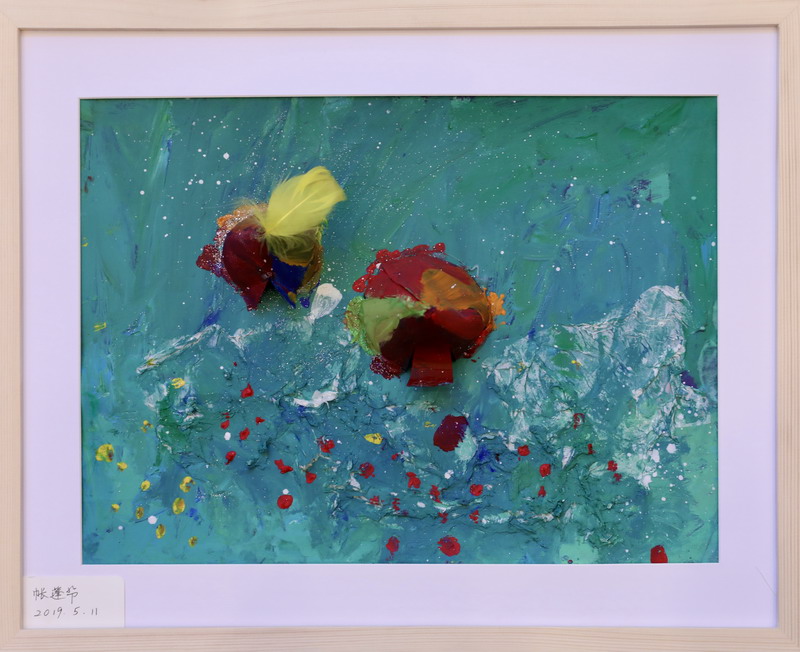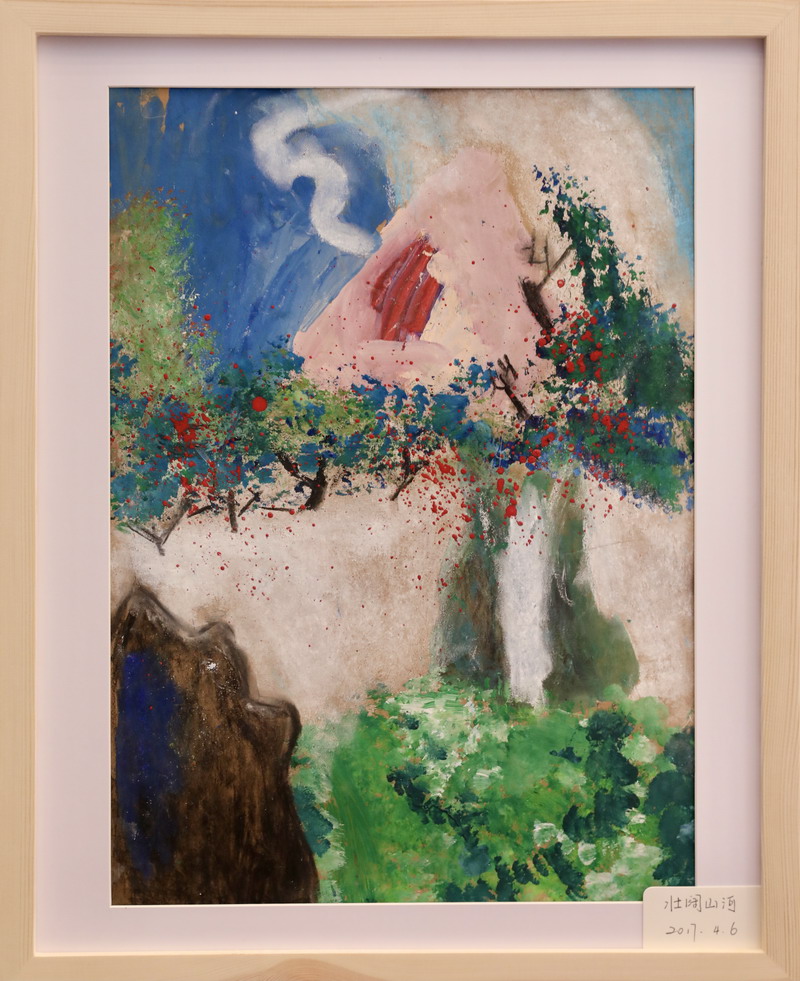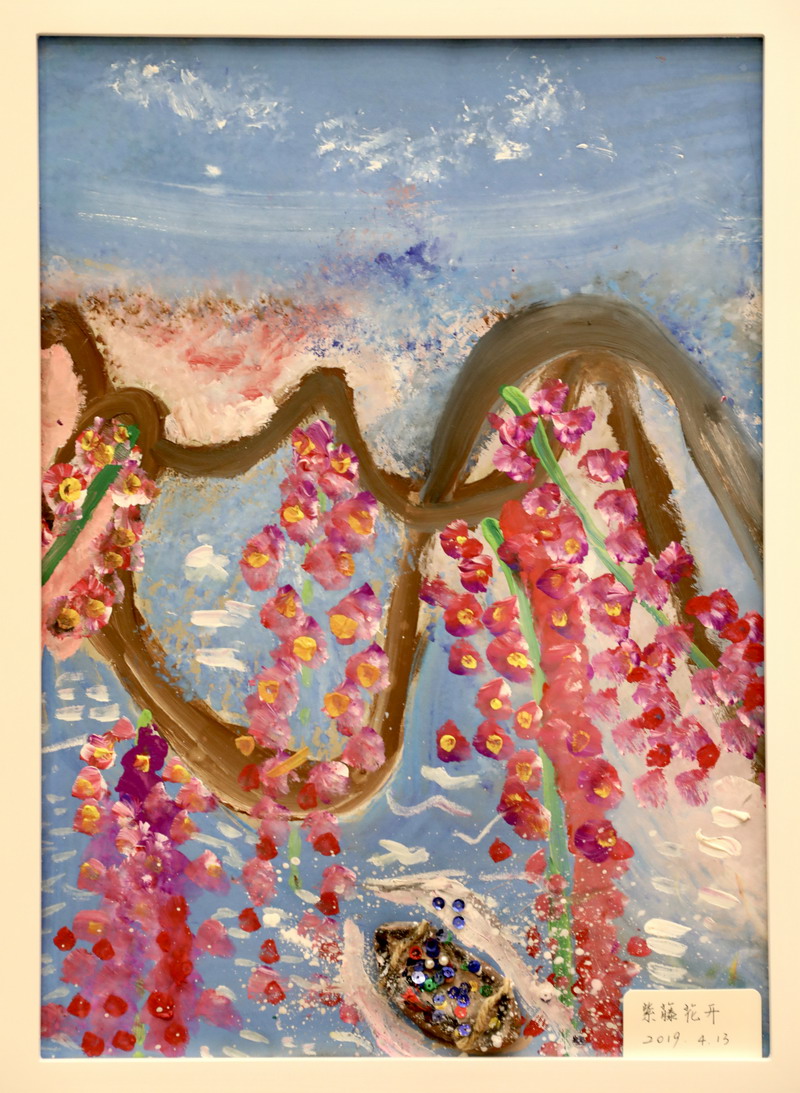 《花灯》的创作灵感来自于电影《星球大战》。那段时间我很痴迷于科幻主题,所以把花灯画成了机器人BB-8的造型。
"Flower Lantern" was inspired by the movie "Star Wars". At that time, I was obsessed with science fiction themes, so I painted the lanterns in the shape of a robot BB-8.
《秋色》这副作品,完成于2017年国庆节以后。因为假期里去了青海和甘肃旅行,看到大漠孤烟直的苍凉,也看到胡杨的坚强。体现在画面里,配色简单、线条硬朗。
The work "Autumn Colors" was completed after the 2017 National Day. Because I went to Qinghai and Gansu during the holiday, I saw the desolation of the desert and the strength of Populus euphratica. Reflected in the painting, the colors are simple and the lines are tough.
《面条创意》、《紫藤花开》、《玛格丽特》,这几幅作品创作于2019年,整体来说轻松愉悦,是我天马行空想法的尽情表达,每一幅都在讲一个小故事。
"Noodle Creation", "Wisteria Blossom", "Margarita", these works were created in 2019. On the whole, they are relaxed and happy. They are my heartfelt expressions of unconstrained ideas. Each one is telling a short story.
《桂林山水》这幅画,我又尝试了新的表现手法。用报纸沾了颜料再按在画纸上,形成不规则的浓淡渐变的图案,很有写意山水的意境。
For the painting "Guilin Landscape", I tried a new way of expression. Dip the paint with newspaper and press it on the drawing paper to form an irregular pattern of shades and gradients, which is very freehand in the artistic conception of mountains and rivers.
《帐篷节》这幅比较特别,是立体的造型。画面之上是纸做的帐篷,并用颜料和羽毛做了装饰。整个底色是浓浓的绿茵,开满红色黄色的小花,这就是露营该有的样子。
"Tent Festival" is a special one, with a three-dimensional shape. Above the picture is a tent made of paper, decorated with paint and feathers. The whole background is dense green, full of small red and yellow flowers, this is what camping should look like.
《云彩》是2020年仅有的一幅画。众所周知,新冠病毒肆虐全球,改变了人们的生活。我画了一个大大的口罩,希望可以阻断病毒传播,重现蓝天白云的清朗世界。
"Cloud" is the only painting in 2020. As we all know, the COVID-19 has ravaged the world and changed people's lives. I drew a large mask, hoping to block the spread of the virus and reproduce the clear world of blue sky and white clouds.
《和平之翼》把我最爱的篮球元素融合了进去,火焰代表着我的激情。
"Wings of Peace" incorporates my favorite basketball elements, and the flame represents my passion.
《雅典娜的力量》和《战争的伤痛》是今年的作品,正好契合了学校UOI的主题,我对古希腊和罗马的战争特别感兴趣,所以都画成了战士的造型。
"The Power of Athena" and "The Pain of War" are works of this year, which fit the themes of the school's UOI. I am particularly interested in the wars in ancient Greece and Rome, so I painted them in the shape of warriors.
这次画展虽然规模很小,虽然我的画并不完美,但这是我的人生第一次,我很庆幸有这个机会。我感谢家人对我的呵护和支持;感谢学校提供了展示的平台,让我大胆秀出来;也特别感谢老师和同学们对我的鼓励,让我有动力去做得更好。今后,我一定会更加努力的!
Although the scale of this exhibition is small and my panting is not perfect, it is the first time in my life and I am very fortunate to have this opportunity. I want to thank my family for their care and support; thank the school for providing a platform that can make me show my arts; also thank the teachers and classmates for encouraging me, so that I am motivated to do better. In the future, I will definitely work harder!